Verbotene Liebe was a German soap opera that was on the air for more than 20 years. It all started in 1995, when Jan fell in love with Julia. Unfortunately, they later found out that they were siblings, making their love a "Forbidden Love" (aka "Verbotene Liebe").
Through the years, there was an (almost) uncountable number of romances and "forbidden love stories", and not just of straight couples. You can find descriptions and links for most of the lesbian characters and storylines on this page.
Because of a drop in ratings, Verbotene Liebe was turned from a daily into a weekly series in early 2015 and eventually got cancelled in June of 2015.
Nina Ryan:
Carla von Lahnstein:
Rebecca von Lahnstein:
Let's begin with a chart: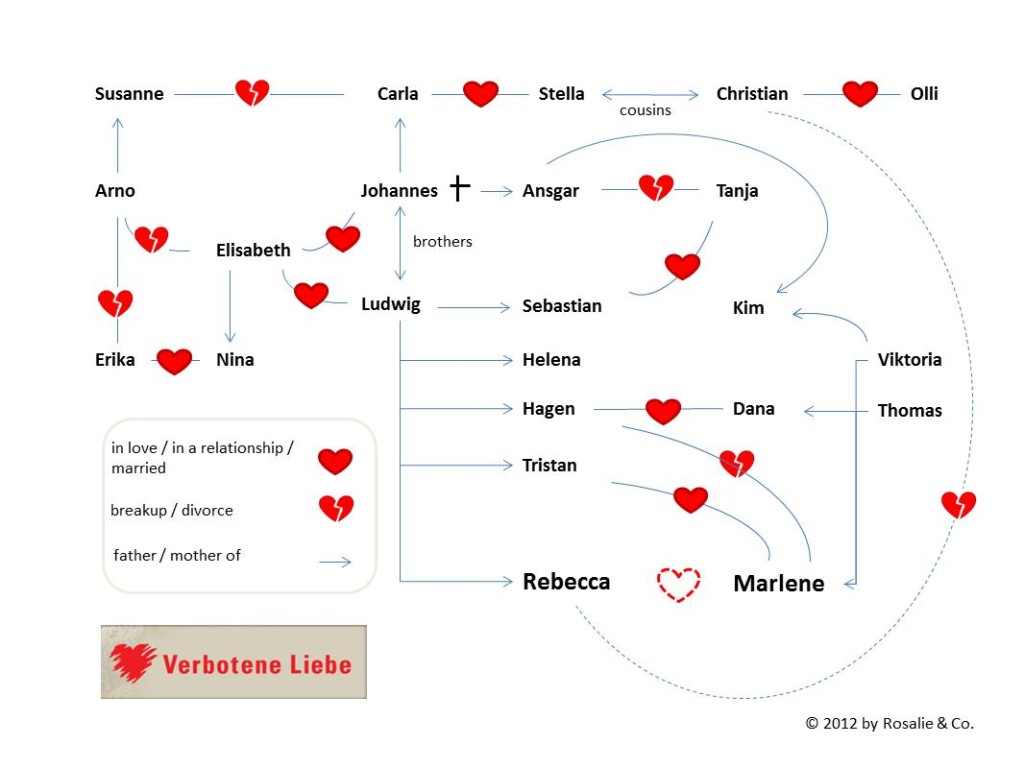 (click to enlarge)
That makes everything much clearer now, doesn't it? 😉
Nina & Erika
The first lesbian character was introduced in the late 1990s: Nina Ryan. Nina fell in love with Erika, who was in a relationship with Arno, Jan and Julia's father. Nina and Erika had a brief relationship before Erika returned to Arno and later left Düsseldorf, the city where the show takes place, to work in London. After getting her heart broken by Erika, Nina gave love another chance with Jule, but later also left Düsseldorf to open a hotel in Greece. Erika and Nina later got back together and now run the hotel together.
Carla & Hanna
In 2003, actress Claudia Hiersche joined the show as Carla von Lahnstein, the daughter of Count Johannes von Lahnstein. Carla fell in love with Hanna, who then was in relationship with Lars. After a lot of back and forth, Hanna decided to be with Carla, but their happiness ended abruptly when Hanna had an accident which eventually led to her death.

Carla & Susanne
After her beloved Hanna had died in her arms, Carla shied away from love for quite a while and even agreed to marry a man to maintain the facade of a heterosexual lifestyle. But then she met Susanne, Arno's daughter, who had just returned to Düsseldorf with her two adopted children Lisa and Paul. Susanne fell head over heels in love with Carla, who was reluctant at first, but slowly fell in love with Susanne as well. The two got married on Castle Königsbrunn, the residence of the von Lahnsteins, and even decided to have a child together, little Sophia.Their marriage started to dissolve when Susanne fell in love with Lars, Sophia's biological father. Carla and Susanne got divorced, and Susanne later left Düsseldorf again.

Carla & Stella
Now a single parent, Carla was too busy raising Sophia and taking over the family business from her father Johannes, who died in a plane crash, to even consider another relationship, until her stepmother Elisabeth – Nina's mother, who was once married to Arno before she fell in love with Johannes and left Arno for him – hired a new administrator for the castle: Stella. After – again – a lot of back and forth, Stella and Carla became a couple, got engaged and decided to leave Königbrunn to go on a round-the-world trip.
Rebecca & Miriam
With Johannes, Carla and most of her siblings gone, castle Königsbrunn was taken over by Ludwig von Lahnstein, Johannes' brother, and his children, including his daughter Rebecca. Rebecca soon developed a crush on Christian, Stella's cousin, who was in a relationship with Olli. During a difficult time in his relationship with Olli, Christian and Rebecca even kissed, but then Christian and Olli reconciled and got married. Rebecca became friends with Miriam, a waitress at the bar that Olli owns, and together they started looking for Mr. Right. When she and Miriam met some very annoying guys and Miriam kissed her in order to get rid of them, Rebecca realized that she was attracted to Miriam. They got involved, but soon realized that they were not in love and broke up. Rebecca left Königsbrunn to pursue a career as a fashion designer in New York, and Miriam left Düsseldorf as well.

Rebecca & Marlene
In February 2012, Rebecca returned to Königsbrunn, and after a brief encounter with a man, the new object of her affection was a woman – Marlene, the ex-wife of her brother Hagen and girlfriend of her brother Tristan. After a lot of back and forth, Rebecca was able to win Marlene's heart and they were in a relationship for a while. They broke up after Rebecca cheated on Marlene with one of her colleagues and Marlene in return cheated on Rebecca with her ex, Tristan. Marlene later left Düsseldorf to pursue a career in the U.S. and Rebecca started a relationship with a man.