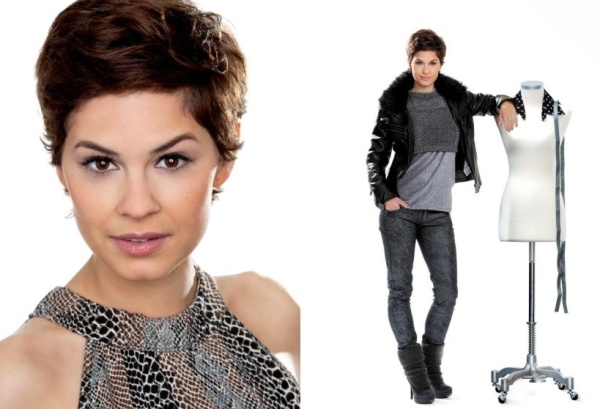 Actress Tatjana Kästel, who is best known for playing up-and-coming fashion designer Rebecca von Lahnstein, one half of the popular lesbian couple "Marbecca", on the German soap opera Verbotene Liebe, did a Q&A for Rosalie & Co. and kindly answered some questions about taking part in the Cologne Pride parade, working on a soap opera in general and her role in particular as well as – of course – "Marbecca". Here's a translation of the Q&A.
Verbotene Liebe was part of this year's Cologne Pride. You were there, too. How did you like it?
Yes, I was there, and it was great fun!!
Have you been to a pride parade before?
No, this was my first time. 😉
What comes to your mind when you think of pride parades or the gay rights movement in general?
Protest movement, fancy costumes, a sense of community, music, a big party.
Verbotene Liebe has a long tradition of including gay and lesbian characters and love stories. The producers once said that they intend to present the stories and the characters as realistic as possible and without clichés. What do you think about that? Is that even possible for a soap opera?
I do think that it is possible to avoid clichés and only focus on the love story even if it's a daily TV series. But maybe it's a little more difficult for everybody involved (writer, director, actor…) than, for example, if it's a motion picture where you have more time at hand.
Have you ever been confronted with lesbian clichés, especially since you started playing Rebecca?
Maybe with regard to my short hair. People usually assume that Rebecca is the male part of "Marbecca" because of her hairstyle, but to me, that is a little too clichéd.
Before Verbotene Liebe , you mostly did theater. Why did you decide to join a daily TV series?
After seven years of doing theater, I was up for a change and wanted to work in front of the camera more. Then I was offered the part of Rebecca on VL and that seemed like a good opportunity to gather a lot of new experience.
What was it about the role of Rebecca that appealed to you?
What appealed to me was that I could identify with a lot of characteristics of Rebecca, but that there are also some aspects where she is very different from me.
Was there something you had to get used to at first when you started working on a daily TV series?
Having to get up early. 🙂
What has been the biggest challenge for you about shooting the show so far? And which scenes were the most fun?
There have been a lot of challenges. Bedroom scenes, for example, when you're not wearing a lot of clothes are and have always been a challenge. But also to stay focused after a few hours of shooting. There have been a lot of scenes that were fun, but I especially like those scenes that challenge me as an actress. Be it because they are very emotional, or because my lines are demanding.
Rebecca has had a rough time since returning to Königsbrunn. First, she falls in love with her brother's fiancé, who in return makes her life a living hell, then she loses her father and one of her brothers, and now she has Juri plonked in front of her as a rival. If you could give Rebecca a piece of advice, what would it be?
Things can only get better. 🙂
Due to the international "Marbecca" fan base, most fan activities happen online. How much of it, if at all, do you notice?
I do go online from time to time and on every occasion, I'm astounded by how many people write about "Marbecca" and exchange their views on them. Of course, I'm delighted that so many people are interested in and even moved by our story. At this point, I'd like to say a big thank you to all the fans for the many beautiful letters, drawings and comments on the websites.
What was the nicest or maybe most surprising fan feedback you got so far? And has there been feedback that you found annyoing?
Well, I got a lot of beautiful letters and post cards and so on! And so far, there hasn't been a feedback that I found annoying.
After the rather tumultuous beginnings, "Marbecca" eventually got back into shallow waters, at least when it comes to their relationship. How do the fans like that? Has the feedback changed as compared to the beginnings?
Yes, now that "Marbecca" are finally a couple, there aren't a lot of stories for them at the moment, and a lot of fans critizice that and think that it's a pity.
Aside from "Marbecca", is there a character or story on "Verbotene Liebe" that you are especially thrilled about at the moment?
I'm a big fan of the role of Martha! A very nice character, captivatingly played by my colleague Julia.
If you could make a wish for the progression of the character of Rebecca and her relationship with Marlene, what would it be?
I wish for a lot of new challenges for Rebecca profesionally, but also with regard to her relationship with Marlene. Even though it's nice that the two of them are happy, the characters will only become more present if obstacles emerge.
Thank you to Tatjana Kästel!
Photos at top: ARD/Glitsch
Go here for the German version of the Q&A.