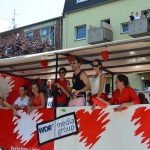 The German soap opera "Verbotene Liebe" (Forbidden Love) has a long tradition of gay and lesbian characters and storylines. Currently, there are two homosexual couples on the show: Christian and Olli, played by actors Jo Weil and Thore Schölermann (who will be back on air in September) and Marlene and Rebecca, played by actresses Melanie Kogler and Tatjana Kästel.
That the show's support for LGBT rights is not limited to the screen could be seen this weekend in Cologne, where a lot of the show's cast and crew took part in the city's annual gay pride parade, including Melanie and Tatjana aka "Marbecca".
Here are some photos:
Thank you
@PattyPapp
and
@hephylax
for the photos!
You can find more pictures and a video of the event on the official "Verbotene Liebe" website.
Please note: If you want to share this gallery on Facebook or Twitter, please consider posting the link instead of single pictures. If you cannot help it, though, please don't forget to mention the source.